BELL'S SPECIALTY BREWS
BELLS
---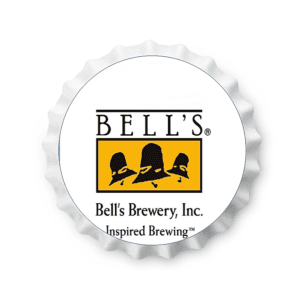 6 PACK BOTTLE, 1/2 KEG, 1/4 KEG
Octoberfest – Crafted as a flavorful session beer and perfect for autumn, Octoberfest spends a full six weeks fermenting. With herbal hop aromas, this balanced amber lager focuses on lightly toasted malt that lends body without too much sweetness. Perfect for a week-long wedding celebration in Germany or the start of the Michigan autumn
Arabicadabra – Brewed with a cold coffee extract made at the brewery using a combination of fair trade, organic Nicaraguan coffee beans and Sumatra coffee beans. Lactose is also used for creaminess (those with dairy allergies or sensitivities should take note). It was inspired by Milchkaffe, another specialty Bell's beer.
Cherry Stout – Tinted ruby-black, Cherry Stout gains its signature tartness from 100% Montmorency cherries grown in Michigan's Traverse City region. Rather than doubling up on sweetness, this tart cherry varietal serves as a counterpoint to the warm, dark chocolate notes from the malt bill. Lightly hopped for balance, this stout is one of the cornerstones of our stout portfolio.
Christmas Ale – This traditional Scotch Ale is rich and malty with notes of caramel and a warm finish. Certain to make any occasion festive, or at least a bit more bearable. Enjoy with the company of friends and family.
Expedition Stout – One of the earliest examples of Russian Imperial Stouts in the United States, Expedition Stout offers immensely complex flavors crafted specifically with aging in mind. A huge malt body is matched with a heady blend of chocolate, dark fruit and other aromas. The flavors will slowly meld and grow in depth as the beer ages in your cellar.
Hopslam Ale – Six different hop varietals are selected and added to this brew specifically because of their aromatic qualities, these Pacific Northwest varieties contribute a pungent blend of grapefruit, stone fruit and floral notes. A generous malt bill and a solid dollop of honey provide just enough body to keep the balance in check, resulting in a remarkably drinkable rendition of the Double India Pale Ale style
Pool Time Ale – Refreshing Belgian-inspired Wheat Ale with light clove notes. The truly distinguishing feature is the use of 100% Montmorency tart cherries grown in the Traverse City region of Michigan. These cherries add a subtle tartness and bright counterpoint to the other flavors, enhancing Pooltime's fruity character and making it the perfect beer for all summer activities
Third Coast Old Ale – Third Coast Old Ale starts with a rich, caramel base, and finishes with a heavy hop bitterness. Sharply intense at first, it will age gracefully, adding complexity and subtlety in your cellar. Go ahead, test your patience.