BELL'S SEASONAL ALES
BELLS
---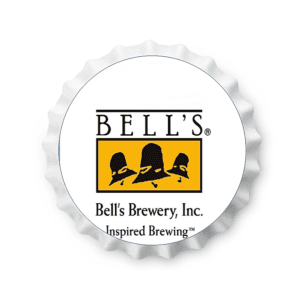 6 PACK BOTTLE, 12 PACK CAN, 1/2 KEG, 1/4 KEG
OBERON ALE – Oberon is a wheat ale fermented with our signature house ale yeast, mixing a spicy hop character with mildly fruity aromas. The addition of wheat malt lends a smooth mouthfeel, making it a classic summer beer. Made with only 4 ingredients, and without the use of any spices or fruit, Oberon is the color and scent of sunny afternoon.
Shelf Life:
6 Months
Available March – August
BEST BROWN ALE – A smooth, toasty brown ale, Best Brown is a mainstay in our fall lineup. With hints of caramel and cocoa, the malt body has the depth to stand up to cool weather, but does not come across as heavy. This balancing act is aided by the generous use of American hops
Shelf Life:
6 Months
Available September – October
WINTER WHITE ALE – An alternative to dark and heavy winter warmers and stouts, Winter White is a stylish and refreshing Wheat Ale. Fermented with a Belgian ale yeast, this blend of barley and wheat malts yields a mixture of clove and fruity aromas, all without the use of any spices. Deliberately brewed to retain a cloudy appearance, Winter White is a beer for embracing winter
Shelf Life:
6 Months
Available November – January
LARRY'S LATEST SOUR ALE – The name "Larry's Latest" is a nod to the spirit of innovation and experimentation that Larry started in 1985 and continues within the brewery to this day. Our latest sour recipe has a refreshingly bright, citrusy tartness combined with pungent tropical aromas.
Shelf Life:
6 Months
Available February – March