FLING COCKTAILS
BOULEVARD BREWING
---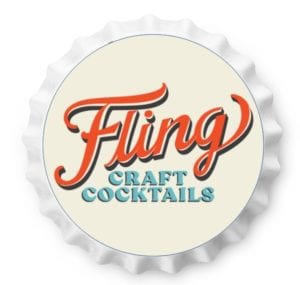 At Boulevard, we've been brewing great beers for decades. And boy, do we love beer. But occasionally, we yearn for something… different. As experts in the fine art of flavor, we've stepped out of our sandbox, pushing boundaries and exploring new territory in a drive to deliver the best and most interesting adult beverages.These all-natural, spirit-based, ready-to-drink craft cocktails go where you go. Crisp, refreshing and crafted with care, they're ready for any adventure. Available year-round in 4-packs of 12oz cans.
Why settle for ordinary?

BLOOD ORANGE VODKA SODA – Fling yourself to the Italian coast, where hats are big, swimsuits are small, oranges are crimson, and life is a celebration. The combination of 360 Vodka, soda water and a hint of blood orange is beautifully guilt-free – just 100 calories and 2.4g of carbohydrates.
5% ABV | 100 CALORIES | 2.4G CARBS

CUCUMBER LIME GIN AND TONIC – Fling yourself to London Town, where royals reign and properly made cocktails are the rule. Bursting with floral aromas, Builders Botanical Gin pairs perfectly with tonic and a touch of lime and cucumber to create a modern, effervescent take on a timeless classic.
7% ABV | 170 CALORIES | 8.6G CARBS

MARGARITA – Fling yourself south of the border, where shoes give way to sandals and mariachi mingles with the music of the waves. A mouthwatering blend of salty, sweet and sour, our Margarita is crafted with Mean Mule American Agave spirit, offering a lively, refreshing spin on a perennial favorite.
7.5% ABV | 198 CALORIES | 9.8G CARBS

RYE WHISKEY MULE –
Fling yourself to the Old West, where coyotes howl, saloons beckon, and imaginations run wild. A bracing kick of ginger, a generous squeeze of lime and a liberal shot of spirits make this Rye Whiskey Mule sing in perfect harmony. Saddle up and ride with this all-natural, spirit-based, ready-to-drink craft cocktail.
9% ABV | 223 CALORIES | 10.6G CARBS

BOURBON SMASH – Fling yourself to the backwoods, far from the asphalt farm, where moonshine flows and laws are made to be broken. Straight whiskey plus sweet vanilla, lemon and a hint of apple give this Bourbon Smash a delightfully decadent twist. Make a clean getaway with this all-natural, spirit-based, ready-to-drink craft cocktail. 9% ABV | 233 CALORIES | 14G CARBS