HARPOON SEASONAL BREWS
HARPOON
---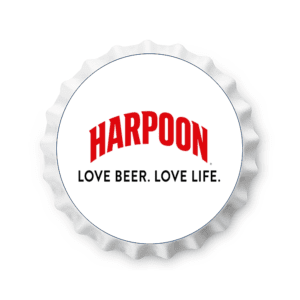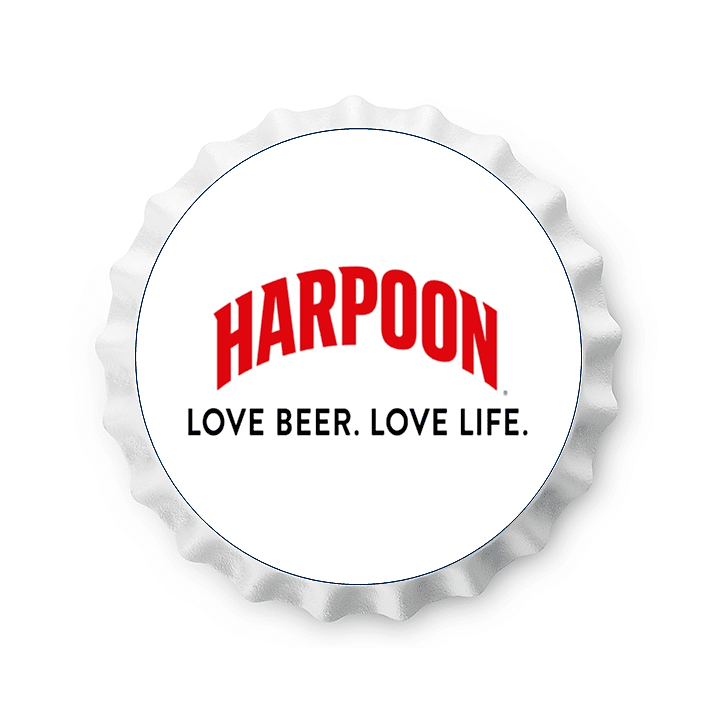 1/6 KEG, 6 PACK BOTTLES, 12 PACK CANS
HARPOON CAMP WANNAMANGO – This pale ale brewed with mango begins with a subtle tropical aroma of passion fruit and mango. Golden-copper in color, it has a light body, slight hop bitterness, and malty sweetness, and finishes with a kiss of mango (Available March – August)
ABV: 5%
IBU: 22
Appearance: Brightly filtered, golden and copper in color, with a nice foam head
Aroma: Mango, passion fruit, subtle hop
Mouth feel: Light body
Taste: Moderate bitterness, hoppy, some light malt sweetness, with mango notes at the finish
Finish: Easy drinking with a touch of mango
* Contains mango puree
HARPOON CRANBERRY CIDER – Crisp, subtly tart, and slightly sweet, Harpoon Cranberry Cider is brewed with cranberries and freshly pressed apples. Its brilliant pinkish-red hue and effervescence make it a festive addition to every winter celebration (Available November&December)
ABV: 4.8%
Appearance: Brilliant pinkish red, crystal clear, effervescent
Aroma: Cranberry tartness is balanced by apple sweetness
Taste: Crisp, tart, and lightly sweet
Mouth Feel: very slight refreshing astringency
Finish: Cranberry tartness lingers, scrubbing the palate and leading to another sip
HARPOON FLANNEL FRIDAY – This Hoppy Amber Ale is our tribute to the quintessential season of change. A bright hop aroma from late hop additions plays with its strong malt backbone. Amber hued, medium bodied, with hints of citrus and pine, this ale is made for the crisp days (and nights) of fall.
ABV: 5.7%
IBU: 35
Appearance: Reddish hue with a slight haze
Aroma: Pleasant fruity hop presence with slight malty toasted aromatics
Mouth feel: Medium to dry finish
Taste: Hop bitterness with a toasted malt presence in the background
Finish: Smooth, lingering hop bitterness
HARPOON FRESH TRACKS – Hop forward without being bitter, this single hop Pale Ale showcases the piney, citrusy character of Centennial hops. Bright and golden, light and drinkable, the subtle malt flavor lets the hops shine (Spring Seasonal)
ABV: 6.2%
IBU: 38
Tasting Notes:
Appearance: Bright gold
Aroma: Pine, citrus, floral hop
Mouth feel: Light, drinkable
Taste: Subtle malt behind piney hops
Finish: Clean with a slight bitterness
HARPOON HIBISCUS CIDER – Hibiscus flowers give the cider its festive, effervescent deep pink hue, as well as a floral tartness that complements the sweetness from the freshly pressed apples. (Available May – August)
ABV: 4.8%
Appearance: Deep pink, effervescent
Aroma: Apple, floral, wine
Mouth feel: Light bodied
Taste: Tart, sweet, apples, floral, tropical
Finish: Dry and crisp
HARPOON OCTOBERFEST – Harpoon Octoberfest is a malty tribute to fall, balanced by a gentle hop bitterness.  In keeping with tradition, it is a Marzen-style beer, brewed with abundant quantities of Munich, Chocolate, and Pale malts. Those malts provide a solid, full body and create the beer's deep color.  It is a rich, flavorful beer (Available September&October)
ABV: 5.3%
IBU: 32
Tasting Notes:
Appearance: garnet-red color with a firm, creamy head.
Aroma: hop aroma, (not overpowering but present)
Mouth feel: full-bodied, smooth, and malty
Taste: gentle bitterness to balance any residual sweetness
Finish: soft and malty with a mild bitterness
HARPOON PUMPKIN CIDER – Real pumpkin and freshly pressed apples are combined with seasonal spices to craft this pure and natural craft cider. Harpoon Pumpkin Cider is also naturally gluten-free. Its gluten content has been independently measured at less than 20 parts per million, meeting the FDA's proposed threshold for gluten-free. (Available August – October)
ABV: 4.8%
Appearance:  Straw/light golden
Aroma:  Freshly pressed Northeastern Apples, traditional pumpkin pie spices and a hint of pumpkin.
Mouth feel:  Light, crisp, tart, cleansing. Sprightly.
Taste:  Apple forward with all the traditional Autumn flavors of pumpkin, cinnamon, ginger, clove and nutmeg, and a touch of sweetness for balance.
Finish:  Dry, light, refreshing.
HARPOON SPRING CIDER – Crafted with sweet orange peel and coriander, this white cider is light golden in color with a hint of citrus from the orange peel, spice from the coriander, and a dry finish – a refreshing take on our craft cider. Happy spring! (Spring Seasonal)
ABV: 4.8%
Appearance: Light straw gold
Aroma: Apple, citrus, a hint of spice
Mouth feel: Light, refreshing
Taste: Apple, citrus notes from the orange peel, subtle coriander spice
Finish: Dry
HARPOON THE CRAIC – This hybrid ale combines two classic styles —IPA and Irish Red Ale—to create a unique and flavorful beer. Th­e malt combination commonly used in Irish Red Ales brings a toasted, malty flavor that balances the citrusy and fruity character of the hops. (Spring Seasonal)
ABV: 6.9%
IBU: 55
Appearance: Reddish hue with a slight haze
Aroma: Pleasant fruity hop presence with slight malty toasted aromatics
Mouth feel: Medium to dry finish
Taste: Hop bitterness with a toasted malt presence in the background
Finish: Smooth, lingering hop bitterness
HARPOON VANILLA BEAN PORTER – A deep chocolate hue complements the roasted malty aroma, delicate vanilla sweetness, and smooth character of this robust porter. (Available November&December)
ABV: 5%
IBU: 27
Appearance: Dark brown, almost black
Aroma: Roasted, coffee-like bitterness blended with sweet vanilla
Mouth feel: Medium to full body, almost velvety.
Taste: Roasted bitterness up front
Finish: Sweet vanilla aftertaste
HARPOON WINTER WARMER – Cinnamon and nutmeg in a beer. When we first introduced this beer, let's just say that people weren't exactly sure what to make of it. But after close to three decades of brewing this classic, there is no greater fervor for any of our seasonal beers than this one right here. Bring on the spice! Brewed since 1988, this beer has become a New England seasonal classic.  Cinnamon and nutmeg dominate the aroma.  The taste is a rich combination of the holiday spices and the hearty malt backbone.  There is a mild sweetness to the finish along with the lingering flavor of the spices.  (Available November – January)
ABV: 5.9%
IBU: 23
Appearance: dark copper in color
Aroma: cinnamon and nutmeg
Mouth feel: medium-bodied
Taste: sweetness of the malt and spice are balanced by bittering hops
Finish: blend of cinnamon and nutmeg