JAILBREAK BREWING YEAR ROUND
JAILBREAK
---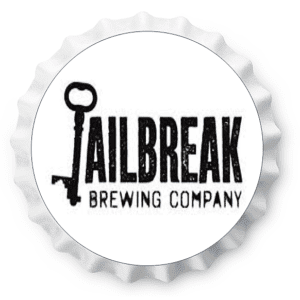 POOR RIGHTEOUS – West Coast inspired IPA displays a leaner malt base with a big juicy hop profile. Lemons, limes, tropical fruit and some grassiness contribute to the hop side while the light, well-rounded malt contributes a mild breadiness. Finishes crisp leaving you wanting more!

FEED THE MONKEY -A German style hefeweizen that combines traditional notes of clove and banana with subtle citrus aromas and flavors to provide balance and complexity.

THE INFINITE AMBER – Easy drinking and infinitely smooth amber ale. Hints of roast and caramel lend to a slightly sweet malt with a semi-dry finish.

CZECH THE TECH – It's all in the technique… Brilliantly gold with a creamy white head Brewed with pilsner and wheat malts, noble hops, Czech lager yeast, and a soft water profile. Floral and gently spicy hop aromatics are backed by a slightly bready malt that leads into the balanced complexity of a clean malt backbone with soft hop bitterness with a long, rounded finish.

SPECIAL LADY FRIEND –  is very special indeed, an all Mosaic hazy IPA which results from the culmination of experience gained through the last year or so of thoughtful experimentation with varied yeasts, hops, and procedural techniques. Originating from a sturdy base of 2-row, white wheat, and flaked oats, Special Lady Friend boasts a purified expression of Mosaic, given that Mosaic lupulin constitutes 50% of the dry hop by weight. Overripe pineapple, candied orange, and the fresh essence of blueberry dominate the nose, while the palate experience melds into a pithy melange of tropical fruit, ultimately resulting in a dry, yet soft, elegant finish. Cheers!

O.G. – The classic, original, golden lager. 5% ABV  10 IBU