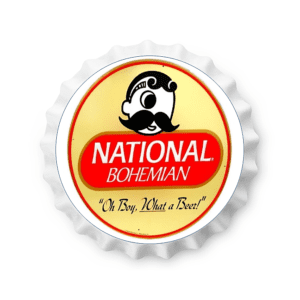 A premium Bohemian-style beer, Natty Boh was first brewed in 1885 by the National Brewing Company in Baltimore, Maryland.  After prohibition, National Bohemian returned with the introduction of Mr. Boh, the one-eyed mascot with a handlebar mustache and distinctive smile.  Quickly adopted as an endearing symbol of a proud city, Mr. Boh continues to be the brand's iconic face, appearing on all cans, bottles, packaging and merchandise.
In the late '40s, as canned beer started becoming popular, National was the first brewer in the U.S. to put six-packs of cans on the market.  In the following decade, National Brewing continued proudly representing Baltimore and the Maryland shore, adopting the now famous slogan: "From the Land of Pleasant Living".  In 1965, National Bohemian became the official sponsor of the Baltimore Orioles.  Natty Boh was served at Memorial Stadium and cemented its reputation as the "official" beer of Baltimore.  Much to the joy of Orioles' fans, Natty Boh once again became an official partner of the Orioles in 2011.
Mr. Boh continues to be a proud symbol of the community and can be seen keeping watch over the city on top of the Natty Boh Tower.  But he is more than a simple mascot, he is also the uncrowned king of Baltimore and plays a significant role in what makes Baltimore unique.
2010 World Beer Cup
Silver American-Style Lager
ALSO AVAILABLE-
 National Bohemian Ice