NEW BELGIUM WOOD-AGED SOURS
NEW BELGIUM
---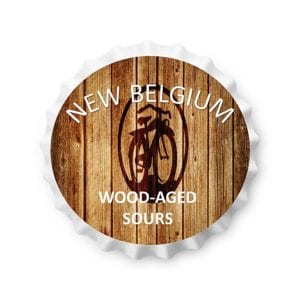 1/6 KEG, 1/2 KEG
NEW BELGIUM LE TERROIR – Oak barrels combine nature and craftsmanship to age the sour beer in varying temperatures, humidity and vibrations. Coupled with dry-hopping using fruit-forward and experimental hops, Le Terroir is a beer that rewards differently every time you experience it.
ABV: 7.5%
Special Processing: 100% acidified in barrels containing our original house mixed culture (numerous cultures of Lacto, Brettanomyces and Pedio). Dry-hopped with Experimental 522 and Amarillo. Barrels Used in Aging: Neutral French Oak Foeders.
NEW BELGIUM LIPS OF FAITH SERIES 'LA FOLIE 2017' – La Folie, French for "the folly," is a beer steeped in New Belgium brewing tradition. This wood-aged, sour brown spends one to three years in big, oak barrels, known as foeders. And when the beer finally hits the glass, La Folie is sharp and sour, full of green apple, cherry, and plum-skin notes. Pouring a deep mahogany, the mouthfeel will get you puckering while the smooth finish will get you smiling. Not a beer for the timid, La Folie is a sour delight that will turn your tongue on its head. Find out why it's considered one of the best sour beers around
ABV: 7.0%
Special Processing: Oscar Production: A base beer is fully fermented, filtered and then moved to barrels at room temperature (no carbonation). Barrels are aged for 1-3 years and it's a blend of 2 Oscar barrels: Acidifying and aging gives it its complex tart aromas and flavors. We taste barrels every three months and then blend different foeders with different flavor profiles and ages together at different percentages to make a complete single sour brown that is decidedly La Folie.
NEW BELGIUM TRANSATLANTIQUE KRIEK – Transatlantique Kriek begins its life in oaken vessels of Gert Christiaens' Oud Beersel, a 130-year-old lambic brewery in the Zenne valley of Belgium – home of authentic Lambic beer. After time spent aging in wood, Oud Beersel's lambic is blended with tart Polish cherries and shipped across the Atlantic to New Belgium. In concert with Oud Beersel's cherry lambic, or Kriek, we blend an equal portion of golden sour ale matured for 1 – 3 years in our oak vessels called foeders. 50% Sour Golden Ale blended with 50% Traditional Cherry Lambic Ale leads to an intense cherry nose, a sour flash across the palate and a refreshing, mouthwatering finish. Now in its 14th yearly release, Transatlantique Kriek is an American Craft Beer legend waiting to be poured.
ABV: 6.5%
Special Processing: The above described lager and sour beer is then mixed with the cherry lambic at a ratio of 50% kriek, 25% sour Felix, and 25% golden lager. Morello Cherries: Too sour for some people's tastes to be eaten fresh. The beer's malty sugars balance the acidity and brings out the fruit's aroma and flavor.