SHINER SPECIALTY / SEASONAL BREWS
SHINER
---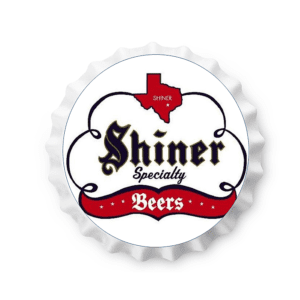 1/4 KEG, 1/2 KEG, 12 PACK CANS, 6 PACK BOTTLES
SHINER BLACK LAGER – Unusually smooth for a dark beer…brewed with roasted malts and Czech Saaz and Styrian Hops. Don't be afraid of the dark!
ABV: 4.9%
SHINER GOLDEN ALE – Dry hopped with mosaic hops, this light-bodied ale has a unique, tropical aroma and a flavor that's balanced by sweetness from the malt.
ABV: 4.6%
SHINER HOLIDAY CHEER – Old-world dunkelweizen brewed with Texas peaches and roasted pecans – perfect for cracking open in front of a crackling fire!
ABV: 5.4%
WINTER SEASONAL
SHINER HOMESPUN CREAM ALE – Crisp, easy-drinking, and brewed with specialty wheat malts for a finish as smooth as the Lavaca County horizon.
No Milk, No Cream, No Dairy.
ABV: 5.0%
SHINER LIGHT BLONDE – Just 99 calories… Light done right!
ABV: 4.2%
SHINER OKTOBERFEST – A festive Märzen-style ale that uses traditional German malts for a rich flavor and a dry, moderately hoppy finish.
ABV: 5.7%
FALL SEASONAL
SHINER STRAWBERRY BLONDE – Made with juicy homegrown strawberries from Poteet, Texas, along with pale and wheat malts for an easy-to-drink, crisp finish.
ABV: 4.3%
SUMMER SEASONAL