TERRAPIN YEAR ROUND BREWS
TERRAPIN
---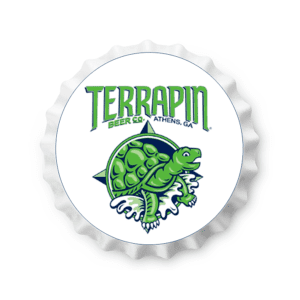 6 PACK CAN, 1/2 KEG, 1/6 KEG

TERRAPIN LUAU KRUNKLES Tropical aromas of Passion fruit, Orange and Guava dominate the nose while a big juicy hop flavor and smooth bitterness complement the balance of the beer.
ABV: 6.5%
IBU: 72
OG: 14.9
HOPS: Columbus, Cascade, Centennial, Simcoe, Citra, Galaxy, Amarillo  (Dry Hop Amarillo, Citra, Galaxy, Simcoe)
MALTS: 2 row pale, Ashburne, Carapilsner, Wheat, Honey Malt
16 OZ CAN, 6 PACK CAN, 1/2 KEG, 1/6 KEG

TERRAPIN HOPSECUTIONER Light copper in color, this IPA has an aroma. of fresh pine and citrus. A strong malt backbone provides balance to an assertive hop bitterness.
ABV: 7.3%
IBU: 71
OG: 16.0
HOPS: Warrior, Chinook, Centennial, Simcoe, Amarillo, Cascade
MALTS: 2-Row Pale, Munich, Crystal 24L, Victory
16 OZ CAN, 15 PK CAN, 1/2 KEG, 1/6 KEG

TERRAPIN REACREATIONALE This hopped up session ale is light bodied with a present hop bitterness and a crisp finish. Dry hopped with Galaxy hops, this beer presents a subtle peach and passionfruit aroma.
ABV: 4.7%
IBU: 42
OG: 11.2
HOPS: Bravo, Centennial, Zythos, Amarillo, Galaxy
MALTS: 2-Row Pale, Crystal 24, Victory

TERRAPIN UP- HI 5 IPA This IPA features 5 tropical, orange, & citrusy aromatic and flavorful hops, a medium body with biscuit and caramel malt notes that bring balance to the beer. This California Style IPA's big citrusy aroma and huge hop presence will keep you in awe sip after sip.
ABV: 5.9%
IBU: 80
OG: 13.9
HOPS: Zythos, Centennial, Amarillo, Simcoe, Citra (Citra, Simcoe, Amarillo & Centennial – dry hop)
MALTS: 2-Row Pale, CaraMalt, Cara Pilsner

TERRAPIN GOOD TO GOSE Tart, refreshing and a pleasure to drink, our "Good to Gose" takes you on a magical ride.  Brewed with a pinch of Sea Salt, a touch of Coriander and a kiss of Grapefruit Peel, this beer will get you ready for the long journey ahead.
ABV: 4.5%
IBU: 7
SRM: 2.3
HOPS: Vanguard
1/2 KEG

SENOR KRUNKLES The legend of Krunkles is alive and well as we follow his time spent south of the border. Subtropical flavors of prickly pear and agave nectar complement a soft, juicy hoppiness in our newest ode to the traveling brewer. "Señor Krunkles" is a fruited IPA you won't wanna miss.
ABV: 6.5%
OG: 15.6
HOPS: Zythos, Citra, Mosaic, Amarillo
MALTS: 2-row, Briess Ashburn, Carapils, Wheat, Gambrinus Honey Malt
AVAILABILITY: IPA Survival Kit