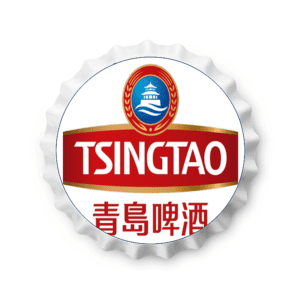 Tsingtao Beer, a well-hopped standard pale lager
ABV: 4.7% 
Tsingtao represents a rich international heritage filled with colonial roots that began in 1903 when the brewery was started by German and British beer makers in the Quingdao region of China.
Since the beginning, brewmasters incorporated some of the finest ingredients in their beer they created- yeast cultivated from German origin, barley malt from Australia, Canada and France, high-quality hops and rice, and fresh spring water from the pristine Laoshan mountain in China.
In the years to follow, Tsingtao's popularity only grew as it began to expand beyond it's birth place and share their passion of beer with the world. Early export records can be tracked back to 1950 where Tsingtao was exported to Hong Kong, Macau and other parts of South East Asia. In 1972, it reached the shores of the United States where it quickly became the top-selling Chinese beer in the U.S. market. One could say this expansion was driven by Tsingtao's love of beer. So much love in fact, that the brewery helped organize the first international beer festival in 1991 with the specific goal of developing the beer culture in Qingdao. Since then, the festival has taken place annually in late August and lasts 14 days every year.
Today, Tsingtao is enjoyed by over 90 countries worldwide. It's unique combination of ingredients create refreshing flavor, with a sweet, nutty taste that has won international awards around the globe. Pabst is proud to continue the tradition that has helped make it one of the most favored choices of beer in the world. As China's #1 beer and the #1 consumer product exported from China, we think the people agree that the choice is simple: just say "Ching-Dow."