YARDS BREWERY ALES OF THE REVOLUTION
YARDS BREWERY
---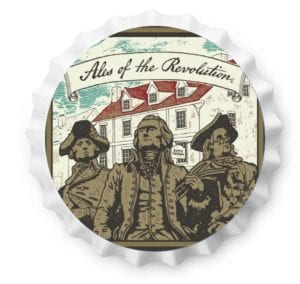 WASHINGTON'S PORTER-
Detailed in a letter from the General to his officers during the war, Washington's recipe employed molasses to aid fermentation and give rich caramel aroma to this robust, roasty ale. The recipe reflected his admiration for Philadelphia-style porters, especially those brewed by Robert Hare. Our Porter, inspired by Washington's, is dark, smooth and complex with just a hint of dried fruit in the finish.
STYLE Porter    ABV 7.0%  IBU 40

JEFFERSON'S GOLDEN ALE-
This complex golden ale pays homage to our Founding Father and fellow brewer, Thomas Jefferson. We recreated his recipe, employing honey, rye and wheat, just like the beer brewed at Monticello during Jefferson's time.
STYLE Strong Golden Ale   ABV 8.0%  IBU 42

POOR RICHARD'S SPRUCE ALE –
Based on Benjamin Franklin's original recipe, this one-of-a-kind deep amber ale calls for barley, molasses and essence of spruce. Locally sourced organic blue spruce clippings are steeped in a kettle to create an ale as approachable and engaging as the man himself.
STYLE Historical Spiced Ale  ABV 5.0%  IBU 22

ALES OF THE REVOLUTION VARIETY
Our Founding Fathers weren't just revolutionary thinkers; they were also revolutionary brewers. Washington, Jefferson, and Franklin each had their own beer recipes, and fortunately for us, they wrote them down so we could enjoy them today. The Ales of the Revolution series includes Jefferson's Golden Ale, Washington's Porter, and Poor Richard's Spruce Ale. Each beer features an ingredient commonly available in the early days of the US, like molasses, honey, and spruce tips.
FORMATS 12-pack       AVAILABILITY Year-round