BLUE MOON SEASONAL BREWS
BLUE MOON
---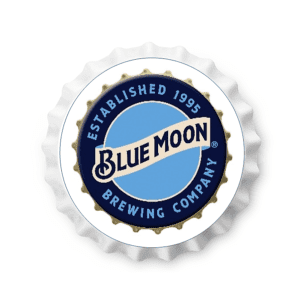 24/12PK BTL
Winter – Mountain Abbey Ale  –  It's no secret that it gets pretty cold here in Colorado. So early on in the brewery's history, our brewmasters wanted to create a beer that would do the trick on a snowy winter day. Today, we craft our winter wonder with roasted malts and dark. Belgian candi sugar for rich caramel and toffee notes. It's perfect on those winter days when you're stuck inside.
Spring – Belgian Table Pils (LAGER)  –  Belgian Table Pils is a sessionable Belgian-style pilsner brewed with mandarin orange peel and two row Moravian barley for a balanced, refreshing summertime beer.
Summer – Honey Wheat (ALE)  –  When we first opened our doors in 1995, our summer seasonal was one of the first beers we brewed. Back then, we called it Honey Blonde Ale, and it was a favorite of baseball fans coming to a game during the heat of the Colorado summer. It took an extended summer break in 1999, reappearing in 2006 in time to win a Gold Medal at the Great American Beer Festival® under the name Blue Moon Honeymoon in the Specialty Honey Lager or Ale Category. In 2010, it became known as Blue Moon® Summer Honey Wheat Ale. The beer with more name changes than a professional athlete, today Blue Moon® Summer Honey Wheat is crafted with clover honey and orange peel for a refreshing taste that makes the most of sun-soaked days.
Fall – Harvest Pumpkin Wheat (ALE)  –  In 1995, we crafted our first autumn seasonal—Pumpkin Ale. At the time, Oktoberfest beers were in high demand. For our version, we wanted to create a beer that was a little different than what was already out there and complemented the season by highlighting the flavors we've all grown to love during this time. It was so popular that it became the first nationally available pumpkin ale. Harvest Pumpkin Wheat, as it's called now, is crafted with pumpkin and spices of cinnamon, nutmeg, cloves, and allspice for a taste you'll want to fall right into.
Gingerbread Spiced Ale  –  Not too long ago, we asked fans to suggest ingredients for a new limited winter release that would best fit the season. After lots of great suggestions and tastings with fans, Gingerbread Spiced Ale came out on top. With tastes of ginger, cinnamon, and molasses, it's clear why they chose this wintery brew.
First Peach Ale  –  With one foot in winter and the other in spring, we crafted this Belgian-inspired Brown Ale with the first peaches of the season and coriander. It has a tart taste balanced by caramel malts for the cooler days and peach notes for the warmer ones.