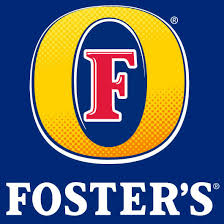 ABOUT FOSTER'S BEER:
Foster's was created by two American brothers, William M. and Ralph R. Foster, who arrived in Melbourne from New York in 1886.[5] The brothers began brewing Foster's Lager in November 1888.[1] It was made available to the public from February 1889.[1] The product was first exported in 1901, when bottles were sent to Australian combatants in the Boer War.[6]
In 1907, the company merged with five other brewing companies to form Carlton & United Breweries (CUB).[5] Then only available in bottles, Foster's Lager was considered to be CUB's premium brand.[5]
In 1958, steel cans were introduced.[7] Foster's Lager was first imported into the UK in 1971[5] and was launched in the US in 1972.[5]