NOT YOUR FATHERS
SMALLTOWN
---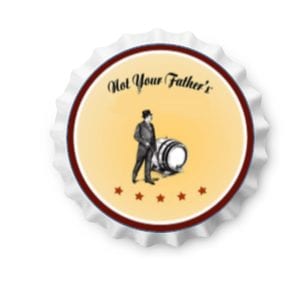 Remember the times when a bad day consisted of popping the tire on your bike?  And all it took to brighten things up was dad helping you patch it and then taking you to get a double scoop of ice cream?  Those were the good ol' days, when simplicity and quality were valued.  Things just tasted better back then. These days, things taste like rent and data overages.
Enter Not Your Father's. As the undisputed leader of flavored craft beer, this line of classic American brews beckons back to the nostalgic tastes of a simpler time. Made with quality ingredients, it's our way of helping you appreciate all the flavors you remember – although today you might be bellied up to a bar counter instead of an ice cream shop counter.
NOT YOUR FATHERS ROOT BEER-
this tastes just like the root beer you remember as a kid. Sweet and silky, it goes down smooth and hits your tongue with the perfect combination of vanilla, sarsaparilla and anise. Don't know how sarsaparilla and anise taste? They taste delicious. That's how they taste.
NOT YOUR FATHERS LEMONADE-
is a crisp, flavored malt beverage with natural lemon flavor.