NOT YOUR FATHERS
SMALLTOWN
---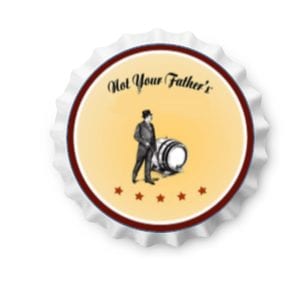 Remember the times when a bad day consisted of popping the tire on your bike?  And all it took to brighten things up was dad helping you patch it and then taking you to get a double scoop of ice cream?  Those were the good ol' days, when simplicity and quality were valued.  Things just tasted better back then. These days, things taste like rent and data overages.
Enter Not Your Father's. As the undisputed leader of flavored craft beer, this line of classic American brews beckons back to the nostalgic tastes of a simpler time. Made with quality ingredients, it's our way of helping you appreciate all the flavors you remember – although today you might be bellied up to a bar counter instead of an ice cream shop counter.
NOT YOUR FATHERS ROOT BEER-
this tastes just like the root beer you remember as a kid. Sweet and silky, it goes down smooth and hits your tongue with the perfect combination of vanilla, sarsaparilla and anise. Don't know how sarsaparilla and anise taste? They taste delicious. That's how they taste.
NOT YOUR FATHERS VANILLA CREAM ALE-
this tastes like a bunch of vanilla pods got together and had a vanilla party inside a vanilla mansion hosted by Vanilla Ice.  With a creamy, sweet finish, this brew will easily become one of your go-tos when you want something smooth and flavorful.
NOT YOUR FATHERS MOUNTAIN ALE-
If you want citrus, this is your beer. A big ol' wallop of crisp citrus notes invades your mouth on the first sip. A smooth finish means you can knock back a few of these by yourself – or split a sixer with friends. You don't even have to be on a mountain.
 NOT YOUR FATHERS GINGER ALE-
Some people used to make their own ginger ale out of real ginger root. Like…in their kitchens. Small Town Brewery founder Tim Kovac remembered his family's recipe so warmly that he set out to brew up Not Your Father's Ginger Ale, a fond favorite that delivers the classic American flavor with a grown-up twist.