SWEETWATER BREWING COMPANY
SWEETWATER BREWING CO
---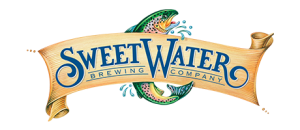 SweetWater Brewing Company
is a craft brewery founded in 1997 by Freddy Bensch and Kevin McNerney in Atlanta, Georgia.[1] SweetWater's beers are unpasteurized and distribution is limited to select states.
Founders Freddy Bensch and Kevin McNerney were roommates at the University of Colorado at Boulder, where they also worked part-time cleaning kegs at a local brewery. After graduation in 1993, Bensch moved to California to study at the American Brewers Guild, while McNerney went on to work in several breweries in Colorado and California, including Rockies Brewing Company, Avery Brewing Company and Mammoth Brewing Company.[2] Bensch visited Atlanta during the 1996 Summer Olympics and saw an opportunity to bring a West Coast style brewery to the Southeast. McNerney soon joined Bensch in Atlanta raising initial funds to open the brewery's first location off Interstate 20 on Fulton Industrial Boulevard.[3]
Bensch named the brewery after kayaking down Sweetwater Creek, a tributary of the Chattahoochee River, in Georgia's Sweetwater Creek State Park located a few miles west of the brewery. The brewery also adopted the official motto "Don't Float the Mainstream" as a tribute to its namesake. Bensch and McNerny began brewing in January 1997 and sold their first keg on February 21, 1997 – SweetWater ESB and Blue. SweetWater's most popular beer, SweetWater 420 Extra Pale Ale, named after the date it was first brewed (April 20), soon followed.
VISIT WEBSITE