TERRAPIN SPECIAL RELEASES
TERRAPIN
---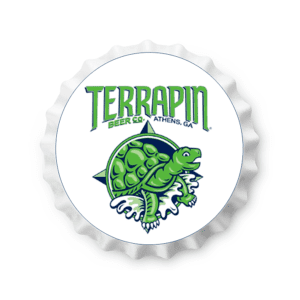 1/6 KEG, 16 OZ CAN
TERRAPIN BEERISTA- By skillfully blending two batches of our award-winning Wake-n-Bake Imperial Stout, we have crafted "Beerista." Batch one was expertly aged in bourbon barrels to highlight complex wood, bourbon and vanilla notes. Batch two was brewed with a heavy dose of lactose sugar to achieve a smooth and creamy mouthfeel. The addition of Jittery Joe's "Wake-n-Bake" Coffee tops off this masterful brew with a delicious coffee flavor and aroma.
ABV: 11.2%
4/6 CAN, 1/6 KEG

TERRAPIN SO FRESH & SO GREEN, GREEN – So Fresh & So Green, Green is our yearly experiment in the use of "wet hops". These freshly picked buds were overnighted from the Yakima Valley to be used immediately. Hop forward in the aroma and flavor, this beer doesn't forget about the malt either. Enjoy our fresh hopped beer with fresh local foods for a perfect pairing.
ABV: 6.6%
1/6 KEG, 12/500 ML

TERRAPIN IRISH BUH-BYE- Top off your morning with our "Irish Buh Bye" Wake-n-Bake. This version of our beloved imperial stout incorporates flavors of velvety smooth Irish cream and dark roasted coffee from Jittery Joe's. Because this Irish cream flavored beer is so sneaky good, it will have you staring at the bottom of your empty glass and wondering why it left without saying goodbye.
AVB: 9.4%