TERRAPIN SPECIAL RELEASES
TERRAPIN
---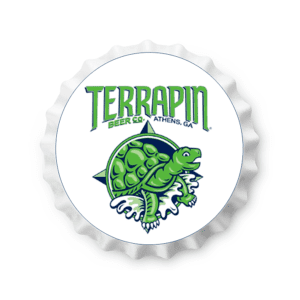 6 PACK CAN, 1/6 KEG, 1/2 KEG
TERRAPIN MOO-TELLA – Our 2017 Reserve Series "MooTella" is a decadent Chocolate Hazelnut Imperial Milk Stout, so delicious you'll wish you could eat it with a spoon. The stunning combination of Olive and Sinclair Chocolate and the rich flavor of hazelnuts creates an experience to share with friends, or keep all to yourself.
ABV: 8.5%
TERRAPIN SO FRESH & SO GREEN, GREEN – So Fresh & So Green, Green is our yearly experiment in the use of "wet hops". These freshly picked buds were overnighted from the Yakima Valley to be used immediately. Hop forward in the aroma and flavor, this beer doesn't forget about the malt either. Enjoy our fresh hopped beer with fresh local foods for a perfect pairing.
ABV: 6.6%
TERRAPIN THE WALKING DEAD – Terrapin Beer Company and The Walking Dead have teamed up to brew the official beer of the undead. With killer blood orange flavor, and a horrific amount of hops, this bloodthirsty Red IPA will have you prepared for the upcoming Zombie Apocalypse.
ABV: 7.7%